Scissor Lifts are one of Superior Rents most rented pieces of equipment. Genie slab scissor lifts are the industry solution for increasing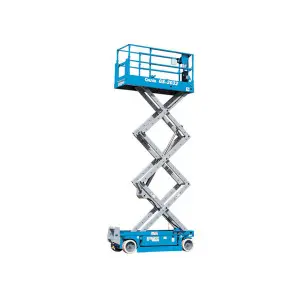 worksite productivity. Ideal for maneuvering in tight spaces, they're excellent for indoor and outdoor construction, maintenance and installation applications with firm, level surfaces. Characterized by low noise levels, these lifts provide excellent capacity and large platform workspace. We carry 19′, 20′, 26 and 32′ lifts. Our 19′ lifts are 30" wide and our 20′ lifts are 32" wide, and both have a 3′ kick out platform. The 26′ lifts come in 32" wide and 46" wide, and both have a 3′ kick out platform. Then our 32′ lift is 46" wide with a 3′ kick out platform. All units can handle 500+ pounds depending on the unit. Contact Superior Rents for specifics.
These lifts are not rough terrain units. These are meant to be used on hard surfaces such as concrete or asphalt. All units will be fully charged before rental, and use a regular 110v to charge when not in use.  Superior Rents staff will gladly show each customer how to use controls before rental period.
To view more Scissor Lift items reference our online catalog here.