Superior Rents offers many options for raising you or materials up in the air. First, we carry 25′ and 30′ AWP's (aerial work platform)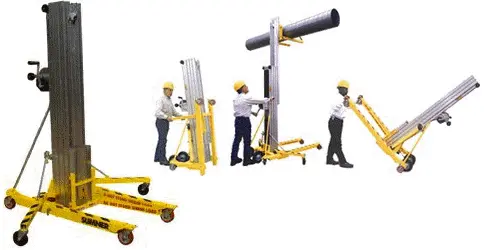 for getting you up to those areas you need to work on in a fast and safe manner. The AWP 25 will provide you with a work height of 30′ 10" and a platform height of 24′ 10".  It will support 350 lbs on the platform. It is maneuvered manually from the base and is stationary while using due to the outriggers necessary for operation. Total weight between 694-817 lbs and is designed to be loaded and unloaded by one person if necessary.  It can easily fit into the bed of a truck. We offer the next step up from this model the AWP 30. It has a work height of 35′ 6" and a platform height of 29′ 6". It supports 350 lbs as well. Its total weight is between 729-867 lbs. This will provide you with another 5′ if needed with only adding a little extra weight on the machine. Both of our AWP's are electric and battery operated with outlets provided on the platform for power tools. These lifts are ideal for working in a stationary position, such as replacing a fixture or getting to a high shelf. They come in different heights. Our GR-20 is our newest addition. It provides a work height of 25′ 11" and a platform height of 19′ 11". It will support up to 350 lbs. It is electric and is drivable from the platform making it handy if you need to move along a high shelf or ledge while working. Total weight of the machine comes in around 2451 lbs.
Superior Rents carries a multitude of step and extension ladders. Our step ladders come in heights 6′, 8′, 10′, 12′ and 16′. They are fiberglass and made for strength and durability. Step ladders are convenient for those spots where there is nothing to lean a ladder on, such as, the middle of a room. We also carry fiberglass extension ladders in 24′, 32′ and 40′ for easily getting to a roof or window. We can also provide ladder jacks which attach to the ladders to enable you to  run a walkboard between two ladders.
Superior Rents also carries Duct Jacks (material lifts) which are perfect for getting your materials up to a work area. We offer them in 18′ and 24′. They are capable of supporting up to 650 lbs each making them ideal at lifting heavy materials that would otherwise be difficult to get into place. Great for lifting duct work to the ceiling to be secured or light fixtures. They are operated by a hand crank that can be set to a slow or fast pace and can also be rented with extension arms for lifting broad items.
To view more Ladders, Jacks, and Lift items reference our online catalog here.