Superior Rents offers a variety of Pressure Washers. We carry a 2700 psi pressure washer that easily hooks to your water line via a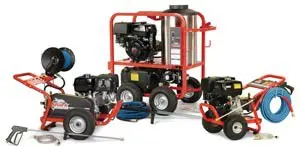 standard water hose. It comes with four different style tips for different applications. This machine is gas powered and lightweight. It is ideal for cleaning off decks or the siding on your house. It comes with 50′ of hose to allow a long reach.
If you have something to wash that requires more pressure, we offer a 3500 psi pressure washer. This machine adds about 30% more power. Like the 2700 psi model it comes with 50′ of hose and an assortment of tips. It is ideal for removing heavy grime or cleaning concrete.
Superior Rents also offers a Hot Water Pressure Washer. When the regular 3500 psi washer does not get the job done, add some heat. This pressure washer has a burner attached and comes with a 50′ hose. The pressure washer motor is gas powered and the burner motor is kerosene powered. Water temperature can reach 285 degrees Fahrenheit. This machine is ideal for removing grease from tractors or motors. It also can remove most paint.
To view more Pressure Washing items reference our online catalog here.