Superior Rents offers various options for your paint and drywall needs. Our Wallpaper Steamer will remove your old wallpaper to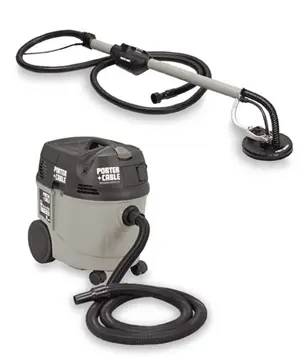 prepare your wall for texture and paint. This machine heats the water causing steam. It will run about 1 ½ hours on one tank of water. You simply add the water and wait approximately 25 minutes for it to heat. We offer a hand paddle that is 9" wide, and a 3" paddle for those tight areas between a door frame and a corner. These paddles are attached by a 15′ long hose to allow you to reach more area without constantly moving the machine. The wallpaper steamer operates on a 110 volt, 15 amp current and will draw 1500 watts. It comes with 15′ of  electric cord. We also provide a 6" roller on an 18" handle that has little metal spikes for rolling along your wallpaper creating tiny holes to allow the steam to get underneath the wallpaper. This allows the wallpaper to be removed a lot easier.
We carry a Sheetrock Jack for getting your drywall to the ceiling easily and safely. Ideal for a one man operation. This jack supports up to 200 lbs. It will reach 12′ or you can add an extension to get it to 16′. Simply place a piece of sheetrock on the hooks, rotate the rack from vertical to horizontal, and turn the wheel to lift the drywall to desired height. It is on wheels making it easy to maneuver into the proper space.
Another option for prepping your drywall is our Drywall Power Sander. This sander is a 9" wide round rotating head located on the end of a 5′ long handle for added reach. We offer 80 grit, 120 grit, and 150 grit sandpaper. It also comes with a vacuum attachment to connect a shop vacuum to keep the dust down to a minimum. This item is convenient for removing old texture or preparing new walls that have just been installed and drywall finished. This will make your walls nice and smooth and ready for fresh texture and paint.
After your drywall is prepped we offer two different options for adding your texture. First, for smaller areas, we have a Texture Gun with Hopper. This sprayer easily attaches to an air compressor. Then choose one of four different sprayer heads, depending on which style texture you prefer. Finally, place your texture in the hopper, or holder, on top of the gun and spray on the texture.  If you need to do a larger area or need the job done faster we offer our Texture Sprayer. This machine has a similar gun with the same four sprayer heads. However, this machine is self contained eliminating the need for an air compressor. The hopper on the machine holds up to 8 gallons of material. It is capable of delivering up to 0.9 gallons per minute. It is light weight, weighing only 60 lbs. It has two wheels and a handle making it easy to move around your work area. It does come with a smaller ¾ gallon hopper that attaches to the gun for going over a small area.     
Finally, for the last step, Superior Rents offers Paint Sprayers. We have sprayers for both latex and oil based paints. These sprayers come with 50′ of hose. They are lightweight and simple to use. Just place the suction hoses in a 5 gallon bucket, plug in to a 110 volt outlet, switch it to on, and turn to prime to prime the machine. After it primes, flip the switch to sprayer and start painting. There is a knob for adjusting the pressure low and high. This allows you to decide how fast and thick you want to apply the paint. It has a maximum working pressure of 3000 psi and a maximum output of 0.54 gallons per minute.
To view more Paint and Drywall items reference our online catalog here.