Superior Rents offers a variety of Concrete Finishing Tools from hand tools to powered concrete equipment. Whether it is flat work, walls, patios or  road construction we have the tools to help. We have Mortar Mixers used in masonry and brick laying as well as portable Mixers to mix sma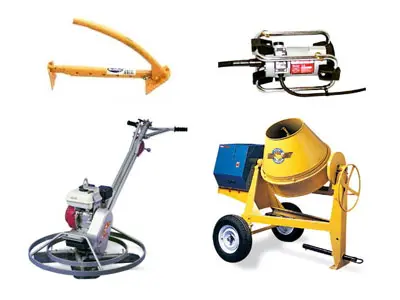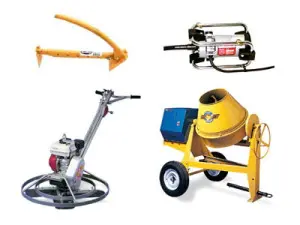 ll batches. Superior Rents carries both 36" and 46" power trowels, they are great for finishing basements and garage floors or patching and repairing on larger jobs and are also used for smaller slabs and hard to reach areas where your ride-on trowel cannot go. Powered Vibrating Concrete Screeds can save a lot of time for the concrete contractor or do-it-yourselfer. They vibrate to pull the concrete, thus making a flatter, more compacted slab that can eliminate the need to bull float the pour. Maybe you left your tools behind, not a problem, Superior Rents has Concrete Hand Tools such as an edger, groover, spreader, rake, placer, kumalong, jitterbug, magnesium hand float, wood hand float, bull float, Fresno, or finish broom. Also available for rent is a 12′ Chute when the truck just can't get close enough. If the terrain won't allow the truck to get to the pour, you may want a powered Mud Buggy. A Mud Buggy is essentially a powered wheelbarrow, that allows the operator to ride on a small platform and dump the concrete into a precise place. They are sometimes used to move gravel, dirt, trash or other landscape materials. For questions about what Superior Rents has to offer in the Concrete Tool category give us a call.
To view more Concrete Tool items reference our online catalog here.